1) Multi type signals input
2) PID control,error correction
3) Auto-Tuning
4) Multiple alarm modes
5) Optional positive-Negative of PID
6) Parameter lock to avoid improper operation
7) Used for industrial machinery,machine tools,measuring instruments
This series instruments are intelligent double-row four-digit display instruments, which display measured values and set values respectively. They can input a variety of signals. The instrument is equipped with four-button operation, easy parameter setting and convenient input of information. The control method have two-position control and PID control. The instrument adopts super anti-interference chip design and the quality is reliable.
The control modes have PID control and position control (also known as the hysteresis control or the upper and lower limit control). The PID control is a professional control method suitable for industrial control situations requiring high precision measurement control. PID is the abbreviation for proportion, integral, and differential. PID control combined the advantages of the three and have the function of timely and rapid proportion action, the ability to eliminate residuals with integral action, and the advanced control function of differential action. In addition, the self-tuning function of the meter can automatically calculate the optimal P.I.D. parameter value according to the control effect of the controlled object and automatically save it.
This series instruments are also with high cost performance.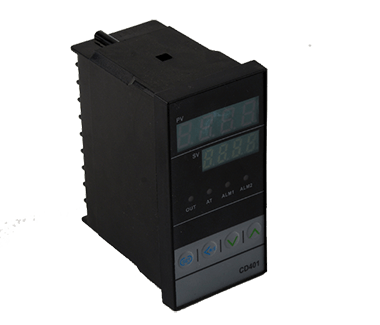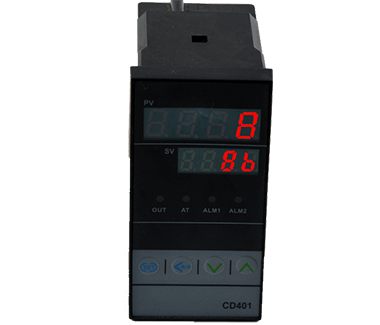 Size code

100

400

401

700

900

Panel size(W,H)

48x48mm

48x96mm

96x48mm

72x72mm

96x96mm

Panel back depth

90mm

90mm

90mm

90mm

100mm

Panel cutout size

+0.6 +0.6

45 x45 mm

+0.6 +0.6

45 x92 mm

+0.6 +0.6

92 x45 mm

+0.6 +0.6

68 x68 mm

+0.6 +0.6

92 x92 mm

Power supply voltage

100~240VAC, -15%, +10% 50/60Hz ; Or 24VDC/AC, -15%, +10%

Measurement accuracy

0.25% FS ±1 Measurement unit

Input type and Measuring range

K(-50~+ 1300℃), S(-50~+1700℃), R(-50~+1700℃), T(-200~+350℃), E(0~800℃), J(0~1000℃), B(200~1800℃), N(0~1300℃), Cu50(-50~+150℃), PT100(-200~+600℃)

Linear input:-9999~+9999(Free set)

Decimal point

0.0, 0.00, 0.000

Response time

8 times/second,≤0.5 sec (when digital filter parameters dL=0)

Control mode

Adopting advanced PI artificial intelligence algorithm.

Output specification (modular)

Relay contact switch output (NO + NC):250VAC / 1A or 30VDC / 1A

SCR non-contact switch output (NO + NC): 100 ~ 240VAC /0.2A (continuous), 2A (20mS instantaneous, repeat cycle is greater than 5S)

SSR voltage output: 12VDC / 30mA (for driving SSR solid state relays)

SCR trigger output: can trigger 5 ~ 500A of the two-way thyristor, two unidirectional SCR anti-parallel connection or controllable power module

Linear current output: 0 ~ 20mA or 4 ~ 20mA can be defined (when installing X3 module output voltage ≥ 105V; X5 module output voltage ≥ 7V)

Electromagnetic compatibility

IEC61000-4-4, 4KV/5KHz; IEC61000-4-5, 4KV

Operating ambient

0~60 degree C; <90RH
Hot Tags: CD401 temperature controller, manufacturers, suppliers, factory, Customized